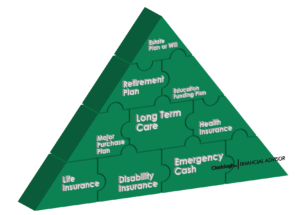 This puzzle piece graphic helps clients visualize financial planning. Together, we can discuss your goals and develop a plan to accomplish them. These are the key elements of financial planning:
Insurance – If something unfortunate happens are you covered?
Cash Flow – How are you managing your income and expenses?
Education Funding – What needs to be funded? Elementary school, high school, college, graduate school?
Retirement Planning – What does retirement mean to you? Is it based on an age or a mindset?
Estate Planning – We start with your basic will. When was the last time you updated it?
Major Purchase – Are you planning on buying a first or second home?
Often, I meet with people and they have some of these areas partially addressed. I work with them to address all of the items that are important to them. We put together a long term plan to get closer to their goals.
Each of the above points need to fit together in a cohesive plan.
Learn more about how we can address two of the most common challenges our clients face.
Retirement Planning
MIT Age Lab did a study and found that retirement might last 8,000 days1. This is 22 years. We need to work together to develop a strategy for:
Income planning
Cash flow
Asset allocation
Social Security maximization
Stock market volatility
How does this work together? More importantly how will you spend your time in retirement? Do you plan to transfer any wealth during your lifetime or after?

¹http://agelab.mit.edu/news/are-you-ready-8000-days-or-more-retirement
College Funding
College Funding can become very expensive very fast. How much will it cost? Who will pay for it? We work with clients to discuss the following:
Will they fund part or all of the education?
Should the student bear any of the cost?
Will we qualify for needs based or merit aid?
What types of schools will be considered?
How much needs to be saved before college begins?
How will their retirement plan be impacted?
All of these factors need to be considered and a plan should be established and implemented to increase the chances of success.
Is College Planning Easy?