Are you interested in having a team of financial professionals working on your behalf to help you achieve your goals?
Is Being Independent Important?
Your choice to work with Claddagh, LLC is the first step in getting unbiased recommendations and impartial guidance based directly on your needs and goals. We are not bound to any insurance or investment companies, so we have the freedom to structure our business in a manner that best serves our clients. We are an independent financial services firm, but we are not alone. We are part of a large branch called Premier Wealth Management, Inc.™ and we also utilize a broker-dealer called Cambridge Investment Research, Inc. These firms provide a variety of services, including processing investment business, marketing assistance, and practice management. In addition, they are responsible for regulatory compliance and adherence to securities laws.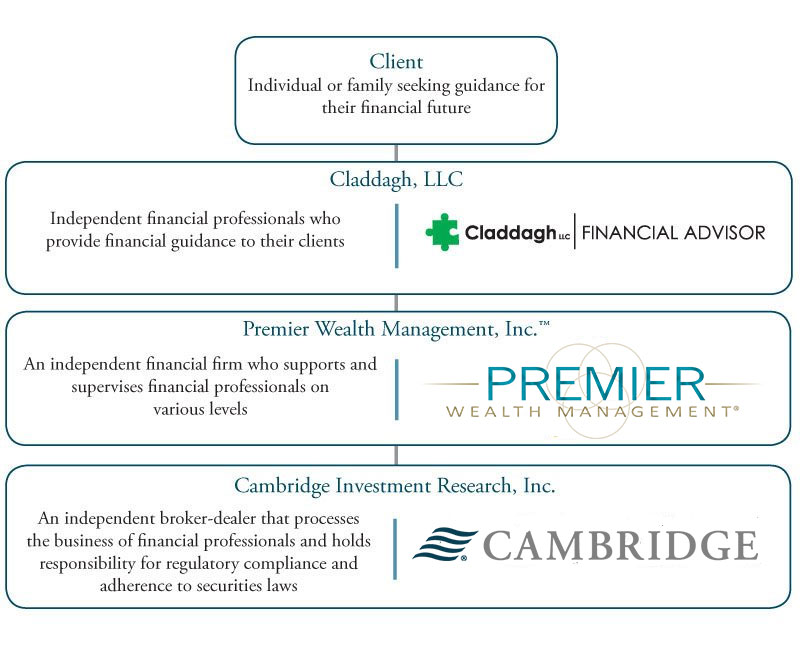 Trusted Local Professionals
In addition to our relationships with Premier Wealth Management, Inc.™ and Cambridge, we feel it is important to help our clients look at the entire picture of their financial lives. Therefore, as a value-added service we meet local professionals in the area to verify they are a good match to our "Team of Trusted Professionals".
• CPA
• Attorneys (Estate Planning, Family Law, etc.)
• Property and casualty insurance agents for your home and auto
• Realtor
• Mortgage loan specialist
Please ask if you are looking for a professional that you don't see!
The information discussed herein is general in nature and provided for informational purposes only. Reprinted by permission for use by Premier Wealth Management, Inc.™ All rights reserved. © 2011 Premier Wealth Management, Inc.®