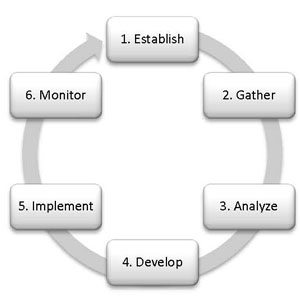 Our process starts with a complimentary consultation. This no-obligation meeting is a chance for you to get to know us and understand what we do. At the same time, we learn about your unique financial situation and identify how we can be of service.
From this complimentary consultation, we can help you in one of two ways. The first option is that we develop a plan, implement, and manage it for you. The second option is that once we have developed a plan, you can implement it yourself based on our guidelines and recommendations.
As a Certified Financial Planner® professional, Tom follows a six step process laid out by the CFP® board. These steps guide us to develop a comprehensive financial plan that can direct you towards achieving your goals. We view comprehensive financial planning as the process of attaining an individual's or family's goals through proper management of personal finances. Our fee-based planning model consists of a six step intimate and intensive process.
What Information Is Needed?